Out of the Box Ideas for Sections
Here are a few examples of innovative activities that may be of interest to your section:
Nuclear Trivia
Did you know Salvador Dali labelled one period of his painting career 'nuclear mysticism'? Or that Kellogg loaned Percival Keith to the Manhattan Project?  Or that Americium 241 is the isotope commonly used as a radiation source in smoke detectors? Thanks to a lifelong love of nuclear trivia, you have facts like this at the ready at a moment's notice.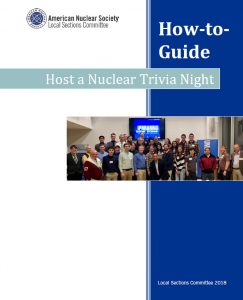 Take your passion for nuclear knowledge and host a trivia night for your section – where members face off about what they know and compete for prizes. Trivia nights are the latest favorite pastime. It's a perfect way to hang out with friends—it's not loud like a nightclub, so you can actually talk, and it's more focused than just meeting up for happy hours, which diminishes the possibility of long, "What are we supposed to talk about now?" silences.
Trivia night is also fun, and super easy to plan.
Spin, yoga and open gym event
Description: Contact a local gym and reserve  classes or an open gym session. You can negotiate to pay only their instructor fee for classes and then charge members $10-$15 to participate.  This can help raise money outreach efforts or anything else your section needs. Classes should be at least one hour long. Another option is to secure time for an open gym and have members pay less (<$10).
What were the goals of your event: Our goal was to promote wellness while also raising money to support outreach. We wanted to give members an outlet where they could relax, not think about work/school and also get a healthy workout in.
How many people organized/ran the event: One volunteer got the ball rolling on the event. As soon as the gym gave us the OK to proceed, many members helped with getting the word out.
How many members attended the event: 30-35
How did you promote the event: We took advantage of personal connections and made flyers to post around at work. We created a Facebook event and invited all our members with email addresses. As the event was approaching, we sent out weekly emails to get people to sign up.
How much did you spend: $80 for the gym – Each class was $40 (to pay the instructor fee). About $20 for bottles of water and fresh fruit. We made $200 overall.
What was your biggest success: I think we were really successful in getting members to realize how important it is to take care of yourself. It is so easy to get caught up in the chaos of work and school, but it is crucial to take a break and do something that makes you feel good. This event was affordable, a great way to get members together, and provided a break from their busy lives.
What was your biggest challenge: At first, it was difficult to get people to sign up. So many of us are so busy with work and our personal lives and because of that, it is difficult to get people to commit. However, as soon as people started spreading the word, the classes filled up quickly. If we have an event like this again, I would definitely make more classes available to accommodate more people.
Lunch and Learn
Description: Once a month, gather members from the same company together for a company-wide Lunch and Learn. Pick a day (1st Wednesday of every month) for members to sit together over lunch to learn about – anything! You might decide to have it in an employee cafeteria, auditorium, or even in a conference room. What sets this concept apart from other programs is the accessibility and less formal structure of this approach.
Plan who will be teaching the Lunch and Learn and from where lunch will be catered about a month in advance. Local restaurants are great options to order from if the section has it in the budget.  If not, ask your company to sponsor it or have members bring their own lunch (pot luck).  Too busy to research a lunch spot? Don't worry – startups like Cater2Me and ZeroCater have services to help you out.
Lunch and Learn can grow from a perk into a tradition. Need help pitching the program to your employer, here are a few good reasons to sell them on the idea:
It helps with transparency and understanding: Even though we all work together, we're on different teams and we might not know what everyone is working on all the time.  When you understand what everyone does on a day-to-day basis, you have a new appreciation for each employee at your company and understand where they fit.
It builds community: How much time do you spend at your job? For many of us, it's a big chunk of our lives. We might as well make it a fun place that is supportive and where you know people care about you. When you know who people are outside of work, it makes who they are at work so much richer. Lunch and Learns are not about work – they're about people.
It fosters learning and growth: It's good to have an environment that people can build off of. You never know what can happen when you start bouncing ideas with people you don't normally work with. An environment where people are encouraged to learn also encourages them to grow their technical skills or their personal ones. A lot of people here will have the opportunity in the future to speak about what they know at conferences or events, Lunch and Learn can give those who aren't as comfortable speaking in front of people a chance to do that.
Pop-Up Program
Description: Pick a topic to cover and organize a series of small events throughout your geographic area.  This allows you to bring your programming  to members who may not be able to attend events that are consistently held in the same location.
Lessons Learned:  Make these events free to members by hosting them at Starbucks and Panera.  Attendees could order from the menus if they wanted too, but since the program was only an hour long we did not provide food and beverage.
Topic: Sharing Setbacks and Proud Moments
Audience:
Up-and-comers (those who have been in the industry from five to 10 years)
Leaders (those in leadership and management positions)
ANS New Member Orientation/Recruitment
Audience: new members
Description: The purpose of this activity is to educate potential members about ANS and sign them up for national membership or section volunteer positions. Sections should look for ways to encourage membership throughout the year.
Hold membership drives at both social and technical meeting events.
Host a Plus-1 (Bring-a-Friend) event and sign them up for membership. Picnics, BBQ and pizza parties are low cost options for membership recruitment.
Encourage members to find new faces at meetings to talk to and introduce other members to.  Meet and greets should be scheduled before the technical talk starts.
Introduce ANS national with the Benefits of Membership presentation and provide a calendar of section events.
Have a membership table with posters and photos of last year's events.  Have applications and samples of ANS publications on hand along with mobile payment capabilities (Square reader) to accept dues onsite.  You can also set up a laptop directing people to ans.org/join.
Have sections members onsite to talk about how they have benefited from being both a local and national member.
Keep the event social, but promote ANS as much as possible. Display an ANS banner, if your section has one.
Nutritional awareness meeting
What were the goals of your event: To promote healthy eating and motivate individuals to begin a new diet regimen.
How many people organized/ran the event: 3 organizers, 4 who ran the event
How many members attended the event: 20-25
How did you promote the event: Email and word of mouth
How much did you spend: $0
If you secured a speaker, how much was that person's fee: The speaker was recruited from within our membership, and was not paid.
What was your biggest success: Raising awareness that it is important to be healthy.
What was your biggest challenge: Getting involvement from older members.
Career Day
Audience: college students
Description: This activity is designed to promote careers in nuclear and increase student membership. The more students recruited by sections, the more students there are with knowledge of ANS.
Student membership information and applications are available from the national office. This event can be held at a local college whether there is an ANS student section or not.
Legislative Letter-Writing Campaigns
Audience: all members
Description: Work with your section's public policy liaison to plan a luncheon to inform members of current legislative issues and have members contact members of Congress on issues of concern to them using ANS's Engage tool at www.ans.org/engage